A Tale of Two Artists
Author: Lauren Hunsberger |
Photography: Vickie Miao |
Posted In: Meet, Reflections |
August 2023
Unpack the different styles of two friends, tennis partners and painters living out their greatest artistic dreams together.
On paper—or canvas—it seems these two artists have very little in common.
Susan Walker, a local fine artist, takes two months to complete a work. She often draws inspiration from exact snapshots of beautiful scenes she has experienced in her real life. Her home studio, set in a lush garden, is a veritable research center for color wheels of oil paints and precise techniques.
Walker says. "You have to first create the color palette, then assess the different possible combinations. Choose a brush . . . It's a constant mental challenge. And it's my dream life."
Her almost-photorealistic style, reminiscent of the American realist painter Edward Hopper, reflects all that decision-making and intention perfectly.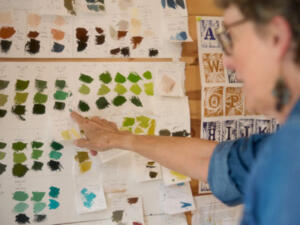 The detail, delicacy, deliberateness and discipline all come through; no stroke of the brush is an accident.
"In doing commissions, I work with a photographer to capture a client's vision.  From the reference photo, we collaborate on the composition (what to leave in and what to eliminate) to present visual options to the client," Walker says.  "I love the whole process."
Carol Whitaker, a retired attorney for Microsoft and Paramount Pictures, a sailor, yoga teacher, tutor, playwright, community activist and more, has a slightly different approach.
"I'm an abstract expressionist, and it's all very responsive," Whitaker says, although she doesn't even really care to assign a label to her style. Inspiration seems to hit her quick, and her paintings can take anywhere from a few hours to years to finish, depending on her mood or what's going on in her life. And her mediums wildly vary from acrylic paint to found objects.
"Sometimes I start with a stick or a sponge, or a piece of paper. I make an initial choice, and just keep working until I like it. I have a whole series that I did during the pandemic based on the colors of this purple-and-yellow flower I kept seeing. Painting is a respite for me from my analytical side," Whitaker says.
"I'm never trying to do something representational. But that doesn't mean I don't paint a cat," she jokes. "I paint the essence of a cat."
While talking back-to-back to these two women, who are longtime friends and supporters of each other, as well as tennis partners, it was almost comical to hear about their distinctly different approaches to painting. But after peeling back the layers it became apparent why they get along.
Most importantly, they share a deep belief that art is a life-changing endeavor which needs to be supported more in schools and the greater community. Walker has a bachelor's degree in fine art from the University of California, Davis, with continuing education at the University of Washington. Whitaker has a bachelor's degree in English from Northwestern University and a law degree from the University of Pennsylvania, and she also took classes at Bellevue College and North Seattle College for painting and drawing.
Beyond their credentials, they talk similarly about how art affects and enriches future generations.
"It's hugely important for kids who aren't sit-down-and-do-worksheets types, the kinesthetic or visual learners," says Walker, a former principal in the Issaquah School District. "Plus kids just gravitate to art. I grew up in an educational environment that had such a heavy emphasis on college and grinding, and I was able to do that. But every hour of art class was a sanctuary for me. And again, the intellectual problem-solving skill is just so invaluable."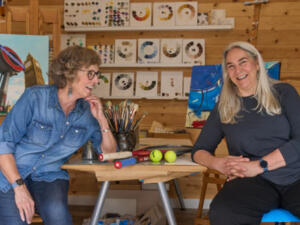 Whitaker now volunteers for the the Mercer Island Visual Arts League (MIVAL) and helps promote a high school scholarship program and a yearly K – 12 art show, among many other art-focused community endeavors.
"Art is good for everybody. It's a way of finding self-esteem," Whitaker says. "I'm into anything that focuses a kid on a positive experience. What I want to teach, what I think is so critical to learn, is the confidence that comes with expressing yourself."
Follow Susan Walker: susanwalkerstudio.com
Follow Carol Whitaker: @whitaker.carol.art