Kelowna: The Canadian Gem
Author: Lauren Hunsberger |
Photography: Taryn Emerick |
Posted In: Reflections |
November 2023
When most people think of crossing the Canadian border in the winter for a vacation, they envision Whistler. But drive a little farther east and there's another wonderland destination waiting: Kelowna, Canada.
Nestled on the east side of Okanagan Lake, the city is known for its world-class wineries, booming technology industry, breathtaking nature and proximity to the beautiful Big White Ski Resort. During the summer, most people spend their time on the 30-plus beaches that surround the lake. But in the winter, they snowshoe and ski the days away.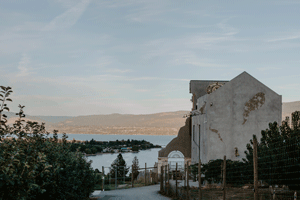 Where to Stay: Delta Hotels Grand Okanagan Resort
Located right on the picturesque Okanagan Lake and surrounded by stunning mountains, this hotel is the perfect spot to experience the height of beauty in Kelowna. And aside from the natural wonders, it's also situated so you can discover the downtown district, with plenty of restaurants, museums and the Waterfront Park. There are also a host of on-site amenities, including a full-service spa, two pools, a private wine cellar and five dining outlets.
• For more information, visit marriott.com/en-us/hotels/ylwok-delta-hotels-grand-okanagan-resort/overview/.
Where to Sweat: The Rail Trails
A hidden treasure in British Columbia is the network of old railways that were converted into recreational trails. One near Kelowna, called the Kettle Valley Rail, stretches from Hope to Castlegar. With more than 400 miles of trail, during the winter it's open to fat-tire biking, snowshoeing and even cross-country skiing in some areas. Adventurers will see waterfalls, massive bridges and mountains as they work up a sweat.
• For more information, visit bcrailtrails.com.
Kelowna Fun Facts
• Kelowna means "grizzly bear" in the native language of the Okanagan Valley's first people,
the Syilx/Okanagan.

• It is the third largest metro area in British Columbia (following Vancouver and Victoria).

• Kelowna is home to more than 40 wineries. Wine growers took over the land that was once
used to grow tobacco.
Where to Sip: Crown and Thieves
The tagline for this winery, "Made by scoundrels, sipped by royalty," says it all. Winemaker Jason Parkes had every intention of only producing small batches, but the "cult wine" soon gardernered a huge following. Now, they pour wine for legions of wine-lovers every year in possibly one of the most unique settings on Earth. Set in the middle of stunning ruins with mountainscapes in the distance, guests won't know what to look at or taste first. Angel Share is their rooftop restaurant, and from there you get a sweeping view of just how special this place is.
• For more information, visit crownthieves.com.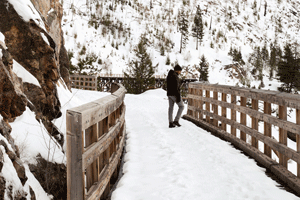 Mission Hill Family Estate
Wine making is one of the largest industries in Kelowna, so there are dozens of places to enjoy wine tasting. But one of the oldest is the award-winning Mission Hill Family Estate. "Centuries ago, glaciers moved through volcanic rock, leaving behind mountainsides, deep lakes and ancient soils. Mission Hill Family Estate was among the first wineries to realize the potential of the valley. Today, the winery employs organic growing practices to cultivate wine of depth and character," per their website. While the winter limits some of the outdoor dining options, it's still worth going for one of the three multi-course set-menu dinners paired with their best wines.
• For more information, visit missionhillwinery.com.
Where to Play: Big White Ski Resort
About an hour west of Kelowna is Big White Ski Resort, featuring Canada's largest ski-in ski-out resort village. The village has three hotels and is packed with exceptional dining and shopping options that you can walk to after a day on the slopes. Fun fact: Main Street in the village is a ski run.
The mountain itself has a ton of terrain options, with 16 lifts, 7,355 acres total and 24.5 feet of average snowfall. It's the third largest resort in British Columbia and features the highest summit in Okanagan Highland.
One of the most unique experiences at the resort is the Horse Drawn Sleigh Dining Tour. According to their website, you can "admire Big White's pristine beauty as the majestic Clydesdale horses guide the sleigh through snow-covered forest to our cozy cabin. Keep warm and snuggle under blankets, as you explore the enchanted forest trails under a star-filled night sky. Then it's on to our cozy cabin in the woods where you can sit back, relax and enjoy a delicious gourmet dinner prepared by our chefs."
• For more information, visit bigwhite.com.