Aging with ease
Author: Lauren Hunsberger |
Posted In: Reflections |
November 2023
The data is in, and the results are undeniable: exercise adds years to your life and can drastically improve the quality.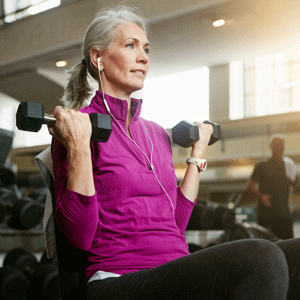 According to a 2018 report from the National Institutes of Health, "A decline in skeletal muscle mass (atrophy) begins during the third or fourth decade of life, and approximately 10% of muscle can be lost by the age of 50 years."
In addition, "The rate of muscle loss then accelerates so that by the seventh and eighth decades of life 0.7%–0.8% of lower limb muscles is reduced per year in both men and women."
This muscular decline affects muscle strength, mobility, flexibility and people's ability to navigate the world comfortably. But it can be even more serious than that.
"Reductions in muscle mass and strength are associated with lower quality of life and higher mortality from all causes," according to Medical News Today. Improvements in cardiovascular disease and Alzheimer's are two of the most heavily affected conditions.
But the good news is that improvement can happen for anyone at any age. And luckily, we have plenty of options geared specifically for this demographic. While active seniors can participate in dozens of classes and programs at the Club, below are our top recommendations.
SENIOR GPX CLASSES
Senior Circuit utilizes weights, balls, TRX and the Kinesis cable system to challenge balance, stability, strength and cardio.
Senior Conditioning works with body weight and exercise bands to improve functional movement patterns, joint stability and strength.
Senior Yoga increases range of motion and stability while improving balance through gentle seated and standing yoga poses. Modifications allow the use of a chair or bar for extra support.
Additional class recommendations: Gentle Yoga, Deepwater Aerobics, Shallow Water Aerobics, Aqua Zumba.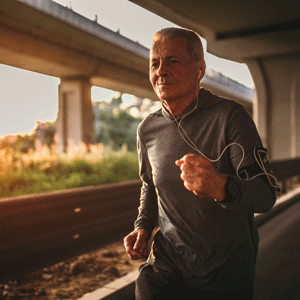 PERSONAL TRAINING
Meet with a Bellevue Club personal trainer for a more personalized approach. Sign up for a complimentary 30-minute consultation to discuss your health history and personal goals to assist in providing programming recommendations. Our experts can help formulate a training plan specifically for your results and needs.
ENROLLMENT-BASED SERIES
Throughout the year we offer a range of different series and workshops geared toward older populations.
Join us for our next workshop series, Balance Training with Tai Ji Quan: This progressive four-week series is tailored toward balance and stability training to help reduce the risk of falls. Sessions include functional movements used in daily activities, stepping, turning, sit-to-stand, stand-to-sit and reaching exercises. This slow, meditative practice incorporates controlled movements and coordinated breathing, which can also aid in workout recovery and stress reduction.