LEADING THE PACK
Author: Lauren Hunsberger |
Photography: Vicki Miao |
Posted In: Reflections |
November 2023
Track-and-field phenom Braelyn Baker talks about goal-setting and race strategy and becoming one of the fastest girls her age.
"Braelyn Baker is quite literally one of the fastest women on the West Coast," explains Ben Benson, her track-and-field coach at the Bear Creek School.
Which is a goal Baker, now 17 years old, had very early on.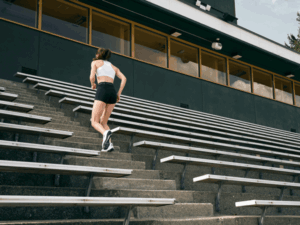 "I started running track and field as soon as my school would allow me to, which was in sixth grade. But my passion started even before that. My [older] sister set the pace for my love for it when I'd see her on the track in high school," Baker says. "Back then, I was just chasing people bigger and older than me."
Now, as a junior in high school, "she has become the most dominant sprinter in Washington State, having held the state lead across all classifications in the 100, 200, 300 hurdles and the 400, with multiple stadium and meet records to her name," says Benson.
It's hard to fully emphasize just how impressive that feat is. But what's even more impressive is the humble way she talks about how she came to control the sport.
"I'm just a goal-oriented person and have a passion for those goals," Baker says. But it's far from that simple.
Earlier this year, for example, she went to the 2023 USATF National Junior Olympic Track and Field Championships in Eugene, Oregon. She ran eight races over the course of five days. Preliminaries, semifinals, and finals for the 100- and 200-meter races. Then semifinals and finals for the 400 hurdles.
"I'm just a goal-oriented person and have a passion for those goals,"
Even more grueling, she had to run the last of two of those races with just 20 minutes in between events. She finished as the champion in all three events. It wasn't just about raw running talent. Baker planned and studied the races for months before.
"When you think about eight events in five days, one of the most important things is to look at the history of these races," she says. "I knew I needed to make a plan that would allow me to get to the finals. A lot of people burn out in the earlier races. I knew I needed to save my energy.
"Sometimes it's about running smarter not harder." This is just one example of how measured and thoughtful her approach is. Which is why she is currently being scouted by multiple colleges, and why her season's final stats are astounding.
"Braelyn is the embodiment of a once-in-a-generation talent. Her character, positivity and magnanimous personality shine a light beyond her performances and onto her as a person," Benson says.
"I'm looking ahead, setting goals and by the grace of God and my family and coaches, I will have continued success," Baker says. "I want to compete at the collegiate level, open up doors to different perspectives to training and eventually have a professional career," Baker says.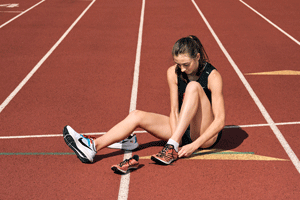 QUICK QUESTIONS WITH BRAELYN BAKER
Do you have any prerace superstitions? No, I don't.
Favorite training meal: I've got to go with spaghetti and meatballs.
Favorite race song: I have a bit of nostalgia for a song we listened to at Bear Creek: "Sweet Caroline." We listened to it coming back from every meet, so it has a special place in my heart.
Favorite athlete: Sydney McLaughlin-Levrone. She runs the 400-meter hurdles, so I connect with her on the event we both run. But also I connect with her on her values and faith journey. I really respect everything she stands for.
Favorite subject in school: I'm a Running Start student, which means I'm dual enrolled in high school and college classes. I will graduate high school with a bachelor's degree in interior design; I think that's my favorite.
Favorite piece of running gear or brand: I really love New Balance; I love all their equipment.
Hidden talent: I think it'd be design. I love architectural and design drawing. I love to draw at scale.
What do you do for cross-training? I cheer for basketball during the winter season. I'm the captain this year.
Do you have any pets? Yes, I have a bird, a tortoise and three dalmatians.
Best advice: Having a passion, a reason to do something, is so important.
2023 BY THE NUMBERS
Four-time National Champion
200M USATF Indoor
100M USATF Outdoor
200M USATF Outdoor 400MH USATF Outdoor
11-time Nike & USATF All-American
Eight-time Washington State Champion 
12 State Records
Tied: 1
Broke: 11
Currently Held: 7
The Runner Washington Awards
Athlete of the Year
Sprinter of the Year
Hurdler of the Year
Personal Records
55M 7.09
60M 7.61
100M 11.65
200M 23.42
300MH 41.02
400M 55.2
400MH 59.2
Long Jump 18′ 8.25″