Hot Spring Heaven
Author: Lauren Hunsberger |
Posted In: Go |
July 2019
The Pacific Northwest landscape is punctuated with hundreds of natural pools that promise healing heat, minerals and spectacular views. Some are situated in remote and rustic environments that require a hike. Others were acquired and turned into world-class resorts. From secluded to luxurious, here's what Washington has to offer.
Gamma Hot Springs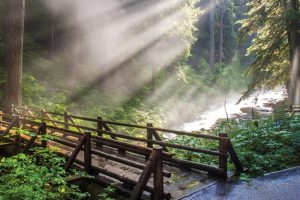 Situated deep in the Glacier Peak Wilderness area, Gamma Hot Springs is a mystical place for the most adventurous. You are almost guaranteed to have them to yourselves, but it will take quite a bit of experience in hiking and route finding to get there. It's an estimated 32-mile round trip, but the terrain is some of the most beautiful in the Pacific Northwest. See trails.com/us/wa/darrington/gamma-hot-springs for more information.
Goldmyer Hot Springs
Goldmyer Hot Springs is located just 25 miles east of North Bend in the old-growth forests of the Cascade foothills. Visitors are tasked with a 4.5-mile hike to the site, which resides at the base of an old mine shaft, and you are responsible for packing out everything you bring in. There are multiple natural pools, from 125 degrees F to cool soaks. Chock-full of minerals, they promote healing in return for the hike. Only 20 visitors are allowed to stay each day, so be sure to check in with goldmyer.org before you go.
Olympic Hot Springs
With an accessible five-mile round trip, the Olympic Hot Springs is one of the most frequented springs on the peninsula. There are many different pools along the trail, and they vary in temperature, so there's something for everyone. Find the one that suits you best and enjoy. This area is prone to washout, so be sure to check wta.org/go-hiking/hikes/olympic-hot-springs before you go.
Sol Duc Hot Springs Resort in  Olympic National Park
The Olympic Peninsula's other hot springs option is Sol Duc Hot Springs Resort. With cabin and campsite options, this resort offers a little more comfort for the springs experience. On-site, there are three mineral hot springs and one cool pool. Nearby restaurants and other amenities make this a perfect family-friendly spot. For more information, visit olympicnationalparks.com/lodging/sol-duc-hot-springs-resort.
Scenic Hot Springs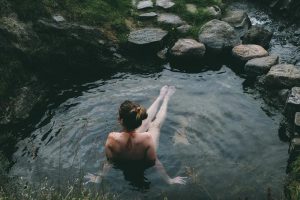 The Scenic Hot Springs were just recently opened to the public, and guests still must apply online to visit. The springs offer expansive views of the mountains near Stevens Pass, but because they are located on private land, there is no camping or overnight access. Also, guests should be aware that these springs are nudity-friendly. For more information or to apply, visit scenichotsprings.blogspot.com.
Carson Hot Springs Resort
If you like your hot springs with a side of golf and a massage at a full-service spa, Carson Hot Springs is the perfect place. Located near the Columbia River Gorge, guests also have access to world-class hiking, fishing and horseback riding. The site was discovered in 1876, so history buffs will especially enjoy kicking back and relaxing. For more information, please visit carsonhotspringresort.com.