Rise of the Mocktail
Author: Lauren Hunsberger |
Photography: Seedlip |
Posted In: Eat |
February 2020
A host of innovative breweries and distilleries are asking social drinkers to give up preconceptions of what a non-alcoholic drink can be. Swapping bourbon for mood-boosting adaptogens, they are out to redefine the American drinking culture.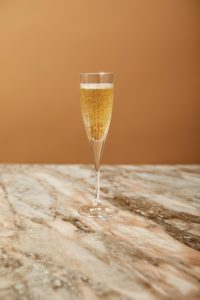 Over the past few years, there has been a movement quietly growing within nightlife and social circles. People are putting down high-gravity beers and replacing them with herb-infused tonics, adaptogen-based elixirs and other distilled nonalcoholic drinks that promise a healthful, yet still interesting, option to the traditional cocktail. Enthusiasts cite multiple reasons to cut back on drinking alcohol or to avoid it completely, leading mocktails to their moment in the spotlight.
Recently, outlets such as the New York Times, Outside magazine and Goop reported on the rise of what they dubbed the "sober-curious" movement. Author and podcaster Ruby Warrington coined the term in 2019 with the release of her book under the same name, and it's catching fire, mostly among the millennial generation.
"Being sober-curious means questioning everything about your relationship with alcohol—including the way that we as a society view and consume alcohol. It means becoming curious about what it means to live a sober life—all the benefits and the challenges," Warrington says in an interview published on Goop.
While mocktails aren't new, evidence of the movement rests in companies expanding into the bar scene that take the concept to a higher level. Mixologists and distilling experts are coming up with ways to still deliver a mood boost without the stressful effects of alcohol on the body. With slogans like "shaken, not slurred," and "a new kind of nightlife beverage for conscious connection," they offer beverages meant for socializing with a twist of wellness.
Here's a roundup of the most innovative options around:
Kin Euphorics
Kin Euphorics is the authority on mocktails that utilize adaptogens and nootropics to improve health and cognitive wellbeing rather than leave you with a hangover or brain fog. Currently, they have three varietals. The High Rhode mix contains rhodiola rosea for cortisol (a stress-related hormone) balance, and GABA, 5-HTP and tyrosine, which are thought to support serotonin production and elevate mood. The Dream Light version is meant to replace your nightcap of choice with a reishi mushroom and passion-flower-based mix. It also features melatonin and other natural sleep-inducing compounds. A third lighter, carbonated and canned option, the Spritz, rounds out their family of functional mocktails.

For more information, visit kineuphorics.com.
Curious Elixir
Crafted by "world-class bartenders, herbalists, and food scientists," Curious Elixirs are brewed to mimic the taste of your favorite cocktails without the alcohol. With four varieties available, and one in development, the line includes nods to the spicy margarita, Italian spritz, cucumber Collins and more. The elixirs are great on their own, but also serve as a solid base for a host of other recipes. The company is dedicated to using as many organic herbs, spices and juices as possible, and all their products are made without adding sugar and remaining gluten, dairy and nut-free. They pride themselves on using the freshest ingredients for maximum taste.
For more information, visit curiouselixirs.com.
Seedlip
Seedlip is a distillery that celebrates the founder's farming heritage and embraces a farm-to-mocktail culture. Taking notes from "nonalcoholic remedies" found in The Art of Distillation, which was written in 1651, the spirits maximize the potency and power of natural sources of flavors—including barks, spices, grasses, herbs and fruit. Seedlip currently has three varieties, Spice 94, Garden 108 and Grove 42, and each blend is a tribute to the company's reverence for nature and celebrates ingredients often overlooked in the spirits industry—like peas, hay, rosemary or bark. The flavor profiles are made to be enjoyed with straight seltzer or as part of a more complex mocktail recipe.

For more information, visit seedlipdrinks.com.
Athletic Brewing
As its name implies, Athletic Brewing was founded specifically with the athlete in mind. Inspired by the feeling many competitors get from enjoying a craft beer after a hard workout or race, they started brewing non-alcoholic beers to bring another option to the finish line. "No matter your motivation, if you want to keep a clear head and drink healthier, we are here for you," says their website. A long roster of athletes, ambassadors and beer aficionados rep the brews and rave that the best part is they don't skimp on taste. The budding brewery has four varieties, ranging from a double hop IPA to a golden ale, all crafted in small batches with premium ingredients.
For more information, visit athleticbrewing.com.